Books page: Foreword by Christine Han Wong
The inspiration for recording my parents biography actually came from studying the life and times of Leo Tolstoy. Reputedly, as a young writer, Tolstoy dedicated years to writing biographies for each of his parents. In my case the motivation emanated from many stories related to me when I was young including about the horrors of war. Each of my parents endured directly and indirectly the Sino-Japanese incursions into Canton. My father even served as a boy-soldier during the war, and barely escaped the internecine strife which followed.
Gwok-Choy: A Family Memoir from the Sino-Japanese War is largely built upon my father's narrative told to and recorded by my sister, Adeline May Wong. The narrative is a familiar one, and while transcribing and rewriting and reworking it into a coherent biography, the stories were confirmed by myself and my relatives (mostly on my father's side).

Image of front cover
It took many years doing this because of my day-work in engineering, and because most of the stories were intertwined or told first in one part, then followed up on another tape. The translations had to be ascertained as to meaning and intention in the most approximate English diction. This was also supplemented by months of research, historical readings, other perspectives, some of which found their way into the book as contextual relief. The result is a tightwoven nuanced work of creative nonfiction leaning heavily on the nonfictional aspects of it all.
While Americans have viewed Canton in China as seen from the eyes of Pearl Buck's The Good Earth, this revelation was shared first-hand by my father, an American-born citizen. It was remarkable in that any child would have returned to live in China and manage to survive as he did. First he grew up under idyllic circumstances, then was kidnapped by Red Bandits, and finally became a child-refugee in his native country. Years later upon his return to the United States, he was drafted again, this time to serve in the Korean War.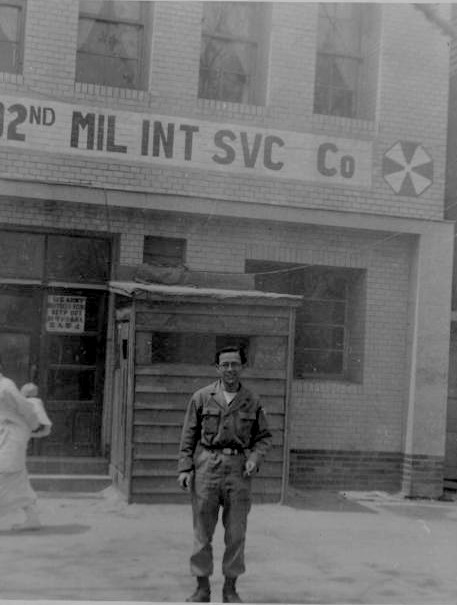 Photo of Walter Wong in Korea, 1952
War changes the tapestry of ancestral life in the old villages of Canton, in this case, forever. The idyllic farming life of Gold Bracelet Bay (Gum-Gwok-Huan-Chuen) is perhaps now lost along the dark urban menagerie. The pace of capitalistic change and the rampage of commerce and opportunity have drowned out romantic troubadours everywhere. In place are perhaps a few reliquaries, a palimpsest of rural Pearl River shores.
It was my hope that this book would have captured the attention of learned and over-educated relatives in higher positions, for instance at the university level of history and literature. However biographies of this nature even when authentic and undertaken in earnest appear limited in demand because so many Asian-Americans are constrained to eek out their lives in such humiliating and vainglorious competition that there is never enough time for themselves to enjoy shopping, let alone reflect on the past history of one's ancestors.
Today ethnic writers who attempt such panoramic works are even swept into niches by language-arts professors who reference them as a "fast-reads."
Like Leo Tolstoy, perhaps the end goal of such endeavors as this is the sense of self-realization one reaches through achieving a finer understanding of the forces which shaped one's beginnings. Whoever takes the time to read this biography will be convinced that another's ethnic tale of Bread Givers will never supplant one's own unique, racially-constructed Bildungsroman.
In fact among one's own social-class race-grouping, neither can one author speak for the rest even when the establishment intentionally forces that to happen. For as a visit to this author's contemporary writings would confirm, this book was not intended as part of the proverbial rags-to-riches fable. The themes of this book time and again emphasize the personal costs of war, the sense of dislocation, and the ongoing recovery over any hoped-for happy-family reunion.
In retrospect one maxim holds true regardless of who is willing to publish, market, or review your artifact: Each woman-warrior will always be the author of her own craft.

Quote from back cover
Purchase at Amazon.com,
also at Alibris.com
also at BarnesandNoble.com